Babysitters don't always put baby to sleep safely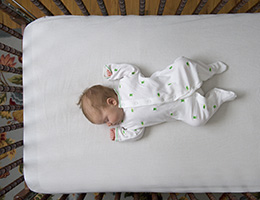 April 23, 2018—When someone watches your baby, make sure to explain the importance of safe sleeping practices. A new study shows caregivers don't always follow them—and that could endanger your infant.
The researchers in a new study reviewed data on 1,375 infants who died in their sleep when someone besides a parent was watching the child. They found that about 73 percent of licensed childcare providers placed the babies in a crib or bassinet to sleep, as recommended. But among babysitters, this number dropped to 49 percent. Among relatives, the number was only 29 percent, and among friends, it was 27 percent.
The study is published in The Journal of Pediatrics.
Tips for baby's bedtime
Follow these guidelines to keep your little one safe during sleep:
Always lay babies down to sleep on their back. That's for naps as well as nighttime.
Make sure the baby has a firm, flat sleeping surface.
Remove any soft objects or loose bedding from the baby's sleeping space. That includes pillows, blankets, crib bumper pads and stuffed animals.
Go over these tips with anyone who will be watching over your baby, and make sure they understand. Times have changed since grandparents and other relatives may have cared for young children, so keep that in mind. And any babysitter, regardless of age or experience, can benefit from a refresher.