Chiropractor
About Dr. Olson
Dr. Mike Olson grew up in Grand Rapids, MN. At a young age he grew to love the outdoors and learned the importance of hard work and family values. Following graduation from Grand Rapids High School, he attended Concordia College and the University of the Sunshine Coast, obtaining all of his prerequisites for chiropractic school. He then took 6 months off to guide in the BWCA before enrolling in Palmer College of Chiropractic, the fountainhead of chiropractic. During his time there, he was active in several groups on campus, including Motion Palpation, Functional Anatomy Club (Vice President), Sports Injury Club (President) and the Extremity Adjustment club. He also worked as an Anatomy tutor, an intern in Active and Passive Rehabilitation and as an intern in the Sports Injury and Rehabilitation Clinic.
About a year before graduation, Dr. Olson met his wife, Courtney, who also works at the hospital as a physical therapist. They both now live in the Bigfork/Marcell community and enjoy all the activities this community has to offer.
Dr. Olson also believes strongly in continuing his education. While maintaining his practice, he has also completed the Certified Chiropractic Sports Physician (CCSP) program through the American Chiropractic Board of Sports Physicians, and he is trained and offering services in chiropractic acupuncture treatment. Aside from his practice, Dr. Olson also teaches for Graston Technique. He enjoys helping students learn a very effective treatment protocol that he is able to use on a daily basis with his patients. He also is very active with the Bigfork High School football team, providing concussion screenings and sideline care at all the home and away games. He has given numerous public presentations to the community and has lectured at the Palmer College of Chiropractic Homecomings. Dr. Olson believes it is important to give back to the community; therefore if you or someone you know is interested in having a speaker, he would gladly provide this service at no cost.
Our approach
Dr. Olson utilizes a unique chiropractic treatment approach designed to evaluate the full musculoskeletal system. Evidence-based research has proven that lack of proper joint movement and muscular tension often results in pain and dysfunction. To rid the body of pain and discomfort, this must be addressed. Therefore, on all of your appointments Dr. Olson will treat all of your spinal and joint restrictions but also provide treatment to your muscles and fascia throughout your body.
Treatments and services
Adjustments
Dr. Olson utilizes the Palmer Package adjusting protocols along with techniques learned from the Motion Palpation Institute. Both techniques are known as the superior adjusting techniques in chiropractic and are evidence-based.
Soft tissue techniques
Dr. Olson utilizes the Graston Technique. This technique is known worldwide as one of the premier Instrument Assisted Soft Tissue Mobilization (IASTM) techniques. It is used worldwide on collegiate, professional and Olympic athletes. Dr. Olson is also an instructor of the Graston Technique and teaches students nationwide how to effectively utilize this form of IASTM.
Rock tape
Dr. Olson is a certified RocDoc and has completed both FMT I and FMT II certifications. Rock tape is a form of kinesiology tape. Rock tape is used by practitioners around the world to treat injuries and improve sports performance. It is also effective for the treatment of a wide variety of symptoms, including lymphatic drainage and bruise reduction. Key injuries it is used for include Achilles tendonitis, plantar fasciitis, jumper's knee, ACL issues, rotator cuff pathology, hamstring and groin strains, low-back pain, neck pain, shin splints, tennis elbow, pain associated with pregnancy, and postural correction.
Aline inserts
Dr. Olson believes that your feet should function properly and move through a proper joint motion with each and every step you take. As we age, some of us lose a lot of function in our feet. Some people need the assistance of a functional insole to help restore the function of their feet. Aline is a functional insole used by athletes around the world. The goal is to align your feet with your ankles and your ankles with your knees. This helps to improve the function and alignment of your entire pelvis down to your toes, thus helping to alleviate low-back pain, shin splints, Achilles tendonitis, plantar fasciitis, Osgood-Schlatter's disease and more.
Temporomandibular joint (TMJ) dysfunction
Dr. Olson has special training in the treatment of TMJ dysfunction, and his treatments have been found to be very effective for many patients. Often headaches, facial pain, and neck pain can originate from this joint. Many physicians overlook this area as a source of the problem.
Pregnancy and children
Not only is chiropractic safe for pregnant mothers and children, it has been found to be very effective. Mothers who have chosen chiropractic treatment throughout their pregnancy will be the first to tell you how much it helps. Therefore, Dr. Olson utilizes a safe and gentle approach with any mother-to-be who is in need of chiropractic care. He also treats children of all ages in his office.
Sports Physicals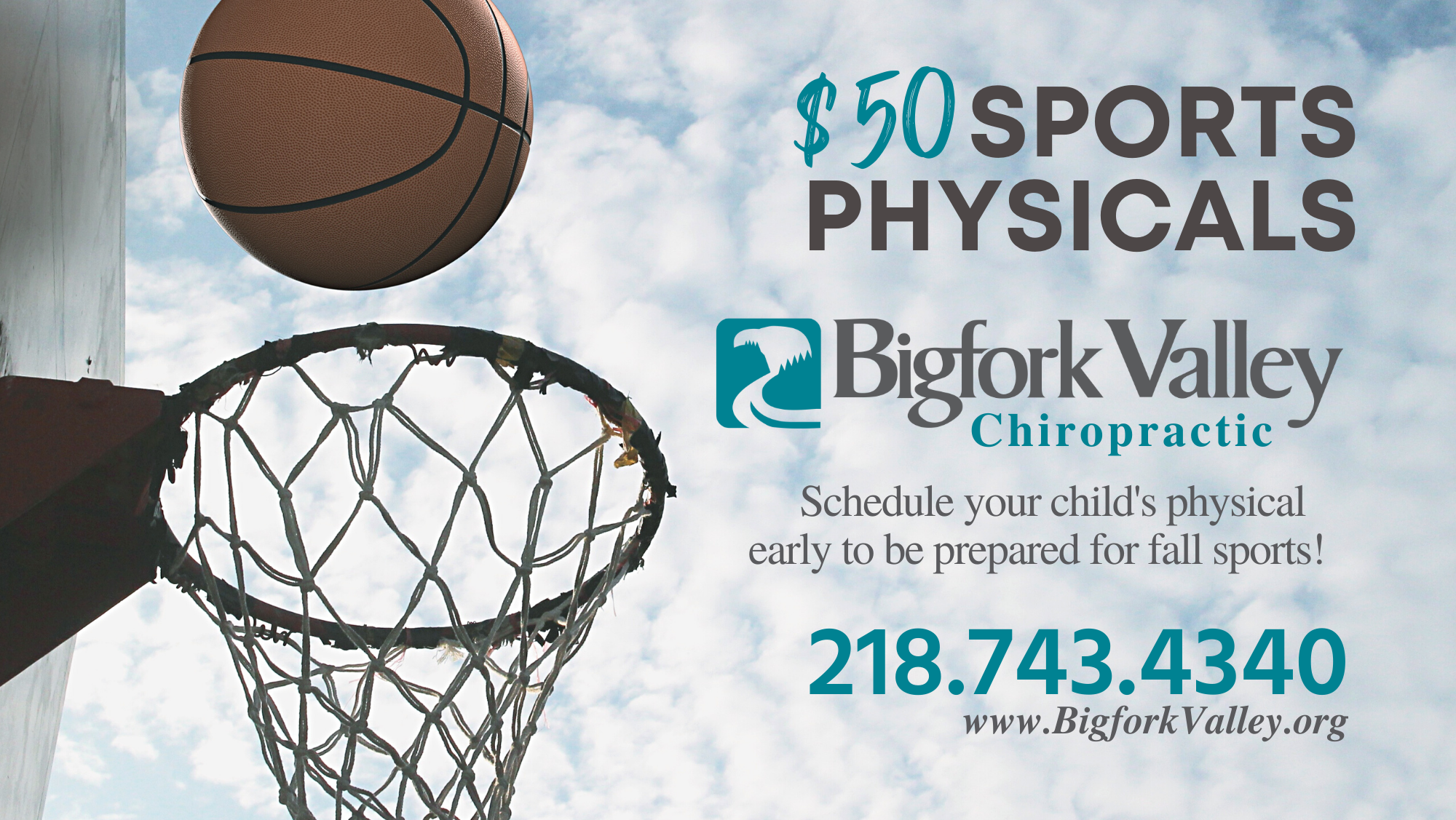 Awards
The Bigfork Valley Chiropractic Clinic is a proud recipient of the ChiroCare Center of Excellence designation from Fulcrum Health, Inc.; recognizing Dr. Mike Olson for going the extra mile to put patients at the center of the care experience. (2017, 2018)
Related Links
Contact us
Bigfork Valley
258 Pine Tree Drive
P.O.Box 258
Bigfork, MN 56628
218.743.3177 | 866.743.3177
WeCare@bigforkvalley.org