Sue Myers, CPT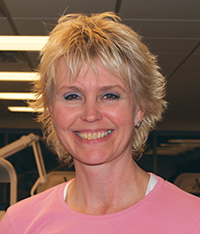 Personal Trainer

OFFICES :
Address : 258 Pine Tree Drive Bigfork, MN 56628

Status
Active
Facilities
Fitness Center

Note
Sue Myers is the coordinator for the Bigfork Valley Fitness Center. She is a Certified Personal Trainer through the National Exercise Trainers Association. Sue Myers offers orientation on the Fitness Center equipment, fitness classes and individual personal training sessions. Appointments may be made through the Rehab Department.
In this section
Contact us
Release of Information Department
218.743.4130
Fax: 218.743.4207
Hours
Monday through Friday
8:00 a.m. to 4:30 p.m.