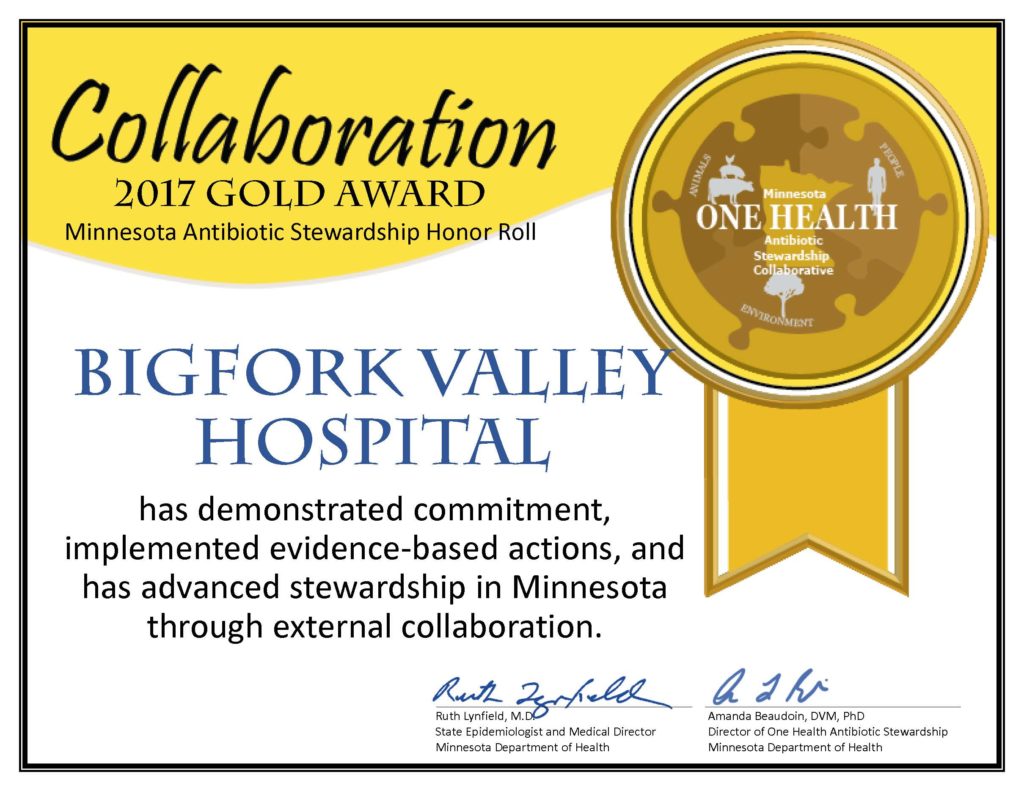 Bigfork Valley Hospital Achieves Minnesota Antibiotic Stewardship Honor Roll
11/21/2017 12:00:00 AM
CENTRAL
Updated: 
11/22/2017 9:50:04 AM
CENTRAL
Bigfork Valley Hospital Achieves Minnesota Antibiotic Stewardship Honor Roll
The Minnesota Department of Health (MDH) highlighted efforts to fight antibiotic resistance through antibiotic stewardship; recognizing Bigfork Valley Hospital as an honoree of the Minnesota Antibiotic Stewardship Honor Roll for Hospitals.
Antibiotic resistance occurs when bacteria change in a way that reduces the effectiveness of drugs, chemicals, or other agents designed to cure or prevent infections.  There are an increasing number of bacteria that have become resistant to antibiotics in recent decades primarily due to overuse of those antibiotic drugs.
As a way to fight antibiotic resistance, health officials are focusing on the importance of antibiotic stewardship. Twenty-six hospitals in Minnesota have shown their commitment for antibiotic stewardship receiving bronze, silver or gold achievements.  Bigfork Valley Hospital is one of fifteen hospitals receiving all three awards for their collaboration, action and commitment to the efforts.
Physician Leader Eric Scrivner, MD and Pharmacist Leader Sara Elioff, PharmD, RPh developed clinical indication requirements for all new anti-infective orders, which has improved communication and facilitated prescribing appropriateness assessments.  They continue to collaborate with other rural Minnesota Critical Access Hospitals serviced by Bigfork Valley's after-hours pharmacy provider in order to share tools and ideas and encourage commitment to antibiotic stewardship.
A description of the MDH Antibiotic Stewardship Honor Roll program and a full list of the names of the honor roll hospitals can be found at: Minnesota Antibiotic Stewardship Honor Roll.